With the change of seasons to cooler, drier air, many of us will notice our skin and lips feeling dry, itchy, or chapped. Many of us will also suffer our first bout of a respiratory infection.  Many of us are hesitant to use commercial lip balms and bath products, not knowing the safety and purity of some of the ingredients. Did you know how incredibly simple it is to make your own??
Here are some simple recipes to make your own very effective, very safe, lotions and potions. Use of these easy-to-make balms is a delightful way to immerse yourself in the healing compounds of your favorite therapeutic grade essential oils all day long!
Preparation
The equipment you will need includes:
Measuring cups and spoons
A heavy saucepan or double boiler
Containers for your balms and potions  (I suggest small glass jars when using therapeutic grade essential oils, as many essential oils can dissolve petro chemicals, from which plastic is made,  and they will interact with metal; many craft stores carry a wide variety of small glass jars, or they may be found on Amazon.  Here is a link to a really nice, inexpensive jar in a set of 9 for under $7.00 http://www.amazon.com/Davids-Bridal-Favor-Jelly-Jar/dp/B005CBGQGO/ref=pd_sim_sbs_hpc_2)
Beeswax, in 1 oz. cubes
Beeswax Preparation:
1. Buy a sheet or more from a local bee keeper.
2. Melt it in a heavy saucepan over very low heat.
3. Pour the melted wax into the cups of a plastic ice cube tray.
4. When cooled and returned to solid, pop out the beeswax cubes and store in a plastic zip lock storage bag.  Each cube will be approximately 1 ounce.
Lip Balm
1 cup fatty oil (coconut(a), safflower, sesame, grape seed, cocoa butter, sunflower, sweet almond oil, jojoba)
1 oz. cube of beeswax
A few capsules of Vitamin E oil (purchased at your local vitamin/mineral store)
1 teaspoon locally produced honey
Several drops (approximately ¼ teaspoon) of your favorite essential oil(s) (see variations below for some of my favorites)
1. Gently heat the fatty oil over very low heat.
2. Add beeswax, and stir just until melted.
3. Remove from heat and add the Vitamin E oil, honey and the essential oil.
4. Stir gently, but thoroughly
5. Allow to cool for a few more minutes, and pour into your containers.
6. Allow the balm to cool completely before closing the containers.
Body Balms
Use the same basic formula as lip balms, adding more fatty oil for a slightly softer consistency. Add a couple more capsules of Vitamin E.
Suggested essential oils:
Citrus (lemon, orange, grapefruit, etc.) and lemongrass oils:  the naturally fresh scent and taste also freshens breath and helps cure simple mouth issues. These oils are loaded with antioxidants, especially Vitamin C, along with Vitamin B, phosphorus proteins, magnesium, calcium, and beneficial flavanoids.  They help clean the digestive system and balance alkalinity levels in the bloodstream, and help to reduce triglycerides and LDL cholesterol.(1,2) Citrus oils are especially rich in limonene, which has been extensively researched and found to combat tumor growth.(3,4) Citrus scents have also been shown to lift and balance the moods and emotions (5,6).
Rose oil: Rose oil has been used for thousands of years for beauty treatments for the most pampered princesses.  In fact, it is one of the oils used by Queen Esther for her beauty treatments, along with myrrh, and referred to by Solomon as one of the "oils of joy." It is anti-inflammatory and reduces scarring (7). Rose oil relieves hypertension and anxiety, being stimulating and elevating to the mind, helping to create a sense of well-being (5). It can also help prevent cold sores from developing, and shorten healing time if one appears, along with helping to reduce stomach ulcers(8). Therapeutic grade rose oil is very expensive, but it may also be found in blends, to make it more accessible.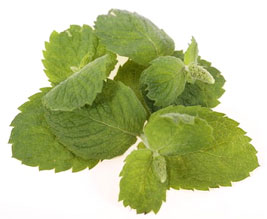 Spearmint oil: being a tasty member of the mint family, spearmint oil is used in many oral hygiene and digestive aid products. It increases metabolism, is anti-inflammatory, antiseptic (10), mucolytic (thins respiratory mucus), and is a digestive aid (9).
What a fun project to do with the kids on a chilly fall day!
Tie a pretty ribbon around the jar, and present as a useful and thoughtful gift for teachers or friends, grandma's and aunts, cousins and playmates — filled to the brim with delicious healing and all your creativity and love!
*Coconut oil: is a preferred fatty oil of mine, as it has innumerable healing properties. Being very moisturizing, it is excellent for very dry skin. It is anti-fungal, and will act as a natural preservative for your balms, as do the essential oils and honey.  It also has that familiar tropical scent and delicious taste. It is solid to about 77 degrees F, so it will help give your lip balm a wonderfully smooth, solid consistency.
SOURCES:
1) http://www.health.harvard.edu/newsletters/Harvard_Heart_Letter/2009/October/11-foods-that-lower-cholesterol
2) Elson CE, et al. Impact of lemongrass oil, an essential oil, on serum cholesterol. Lipids. 1989;24(8):677-9.
3) Asamoto M, et al. Mammary carcinomas induced in human c-Ha-ras proto-oncogene transgenic rats are estrogen-independent, but responsive to d-limonene treatment. Jpn J Cancer Res. 2002 Jan;93(1):32-5.
4) Parja T, Das BR. Involvement of YY1 and its correlation with c-myc in NDEA induced hepatocarcinogenesis, its prevention by d-limonene. Mol Biol Rep. 2003 Mar;30(1):41-6.
5) Haze S. Sakai K. Gozu Y., et al.  Effects of fragrance inhalation on sympathetic activity in normal adults. Jpn J Pharmacol. 2002 Nov;90(3):247-53.
6) Komonri T, et al. Application of fragrances to treatments for depression. Nihan Shinkei Seishin Yakurigaku Zashi. 1995 Feb; 15(1):39-42. Japanese
7)Sysoev NP. The effect of waxes from essential oil plants on the dehydrogenase activity of the blood neutrophils in mucosal trauma of the mouth. Stomatolofiia 1991;70(1):12-3
8) Boyanova L, Neshev G. Inhibitory effect of rose oil products on Helicobacter pylori growth in vitro: preliminary report. J Med Microbiol. 1999 Jul;48(7);705-6.
9)Mimica-Dukic N, et al. Antimicrobial and anti-oxidant activities of three Mentha species essential oils. Planta Med. 2003 May;69(5):413-9.
10) Imai H, et al. Inhibition by the essential oils of peppermint and spearmint of the growth of pathogenic bacteria. Microbios. 2001;106 Suppl 1:31-9.