No, I am not insulting you. I really mean "take a hike" and not any kind of hike—a spiritual hike. Between you and me, I used to have these absolutely divine moments in the gym with God. I would put in my ear plugs, turn my music on and shift every energy in my body and mind to feeling that muscle I was working out or listening to my breath as molecules of life traveled within me. It was an exhilarating time, because I became so acutely aware that I was alive and not just alive to the universe but to the Creator who marvelously designed me. But this year, I found myself longing for a different activity—something outdoor. Seeing that I was not an "outdoorsy" girl, I didn't know where to start. But it's funny how the desire in my heart led me on a hike that turned out to be just what I needed for the body, mind and spirit.
The Desire Creates the Path
I love a good story and not just any kind of story but those stories with a strange twist, like a path that takes an unexpected turn. One night I was on Facebook when I noticed a group called North Atlanta Christian in my area. After recognizing two of my friends Pastor David and Julie, who were also members, I clicked and joined the group. It was not too long before I started receiving notices about the group's activities, but none of them interested me until I saw a spiritual hike organized by Ted Barber. I am not sure when it occurred to me that this group was not what I thought it would be. Maybe, it was too late to change my mind, but if I had known earlier, I would not have gone and discovered the path that God was showing me. Just before leaving the house I told my husband I was going hiking, but I think it was with a single's group. He gave me one of those eye brow raising stares. And I told him I didn't know they were a single's group until I committed to going. I implored him to come with me, but he said he had to finish up some work, especially after he found out the hike was merely 2 miles down the street from the house—at the Roswell Mill. He was definitely not interested. I went anyway, following the tug in my heart that I just had to experience some fresh outdoor air; and, furthermore, I had never been to the Roswell Mill.
I was pleasantly delighted to find such beauty was literally in my backyard after living in the area for 6 years. The Roswell Mill is the 1882 incarnation of a cotton mill in downtown Roswell, Georgia. A dam, which was expanded in 1853, an old machine shop and blacksmith shop, and "an endless belt" system for power transmission were some of the relics remaining.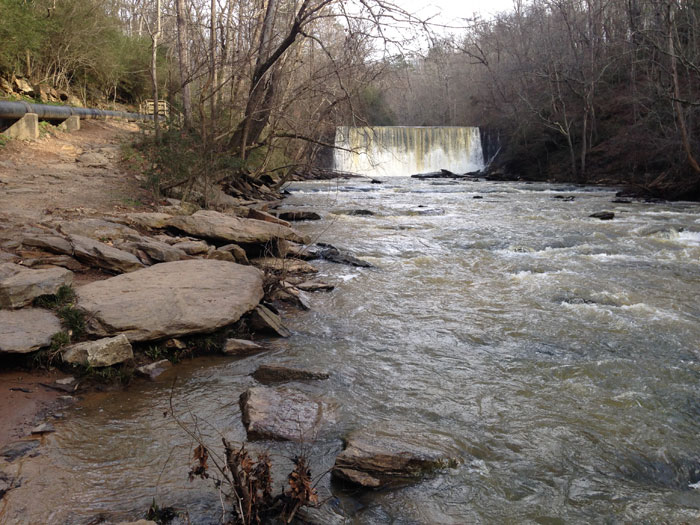 Six women, another guy besides Ted, the leader, and a dog called Phoenix showed up that day for the hike. We had fun, including Phoenix who seemed to have gotten the diarrhea towards the end. I enjoyed making new friends with the women and being married or single did not seem to matter. Though it was fun taking 'selfies', I couldn't help feeling that we as human beings were always on the alert—never relaxed but narcissistic beings, watching ourselves and trying to capture every moment to share with the world. I secretly hungered for the alone time with God and his creation, but I sensed that this journey had a different purpose for now.
The moment of truth came as Ted took on the persona of a spiritual guide pulling out his sermon notes. It was touching as he spoke of God's love in this backyard wilderness. All that was needed was an altar call. It was precious. God was, indeed, everywhere. It was like the awe captured in the words of Elizabeth Barrett Browning:
Metaphorically, we took off our shoes as the words became alive on the ground of our being which they fell upon.
I left refreshed physically, mentally and spiritually. I wanted another hike, but this time as you might have guessed—alone. I decided that I would take my next hiking trip to the mountain—to the Kennesaw Mountain that was just 26 minutes from my house. I was hooked.
Come Up Higher
Unlike the Roswell Mill hike, this hike required a little more muscle. The Kennesaw Mountain was one of the places of the bloody Civil War Battlefield. Its trails ranged in difficulty from easy to difficult – and in length from the 2 mile Kennesaw Mountain Trail to 16 miles (from the park's Visitor Center south to Cheatham Hill and Kolb Farm). Since this was my first time, I took the 2 mile Kennesaw Mountain Trail. For real hikers, this was a joke but for novices, like me, it felt like walking on the treadmill for 30 minutes with the incline at level 14. The hike was moderately difficult but short. The trail climbed to about 600 feet elevation. The view of the Atlanta skyline was picture perfect on this clear day. A magnificent hawk circled the sky as if showing off its powerful wings and wingspan. Hawks, eagles—these birds all amaze me for their ability to soar. Their soaring abilities allow them to circle over open areas while searching for a prey. They do not flap their wings, for this action would require too much energy instead. There must be a lesson here: as we climb higher in life, in whatever area we venture in, we need stronger muscles to cover more area. Stronger leg muscles to make the ascent. Stronger lung muscles to adjust to the altitude. Yes, "more" is required of us.
Exercises to Strengthen Muscles for Hiking
Strong glute muscles and hamstrings, in particular, are needed for running or walking on an incline, such as a hill or mountain. Lunges, in particular, are effective exercises for targeting both gluteus maximus and hamstrings:
Walking Lunges
Take a large step forward
Lower back knee
10 reps per leg
Repeat with other leg
Walking is an excellent form of exercise that can easily incorporate lunges. You can also challenge yourself by walking on a treadmill by increasing the incline, going up stairs, or taking hikes up a mountain.
Conclusion
Now that the weather is great, this is a good time to go outdoor, breathe fresh oxygen and move. Nature allows you to move the body naturally, create space by clearing the mind, and contemplate the beauty of God, bringing nourishment to the soul. This year, consider taking a spiritual hike. It was in January when I went on my first spiritual hike. It was a new beginning for me. My heart was leading me to discover new territory. If you have gotten this far in the blog, is God leading you to discover new territory? October 7, 2016, LiveLiving will host a spiritual hike at Kennesaw Mountain. If you have never hiked before, come and experience nature and its Creator. If you are a hiker, come and meet new friends. Learn, appreciate and discover new horizons.